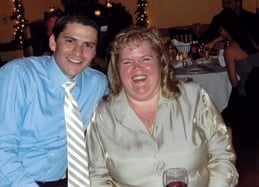 Reflections from President, Judy Kahler, as CLAS Reaches its 40th Anniversary:
This month, CLAS is celebrating 40 years in business. It all started in 1980 when Ron Kahler founded California Lenders' and Attorneys' Services. He compiled a client group selected from the most significant San Francisco and Los Angeles law firms, banks and finance companies. He demanded excellence from his staff. His style was to befriend his clients and to treat them as welcome guests in his home. He demanded that our service be on the level of the best hotels; our phones would only be answered by people who knew how to handle every client's concerns. That tradition continues today. Our phones are still personally answered by experienced representatives.
In 1995, I entered the scene. My business experience in other ventures set the stage to move Cal Lenders to a new level. But what truly made the difference was the expertise of our staff. They had adopted a standard of excellence from Ron and formed enduring relationships with our clients. I saw it as my responsibility to bring new ideas, new technology and a new vision. It was also my task to build trust between us all. In the years that followed, we changed our name and identity from Cal Lenders to CLAS Information Services and created a dba name, CLAS Worldwide Information Services, to underscore the change in our views and the scope of our services.
Our staff continued to be the source of stability and reliability throughout all of the changes. We are fortunate to have a quarter of our staff who have been with us for over 20 years. Three of our staff members have celebrated their 30th anniversaries. Even our newest members are adding tremendous value. Throughout the years, we have had people come and go, but there has been this steady core of loyal, dedicated people who have stayed, learned and adapted. I could not have asked for a better group.
Adding technology solutions such as DIY Search™ and UCC eZFILE® elevated our service level and allowed us to remain competitive in the industry. We have also added educational seminars and tools that inform and educate our clients
As I look back on these last 40 years, I truly feel that the most important reason for our success is that we care. We all care deeply about our clients, each other and the success of the company. Thank you for putting your trust in us. I am forever grateful.
With gratitude and appreciation,
President
CLAS Information Services